The last code of points was responsible for some shocking results, here are the worst of them
At the 2006 Common Wealth Games, Hollie
Dykes
finished in bronze position in the all around ahead of Imogen Cairns. Hollie fell on every apparatus to finish .05 ahead of Cairns.
Vanessa Ferrari took the 2006 world all around title despite a fall on beam, ahead of Jana
Beiger
, Sandra
Izbasa
and
Steliana
Nistor
who performed cleanly.
Vanessa Ferrari managed to finish on the all around podium again at the 2007 World Championships despite a fall on bars. Jade
Barbosa
tied for bronze despite a fall on floor.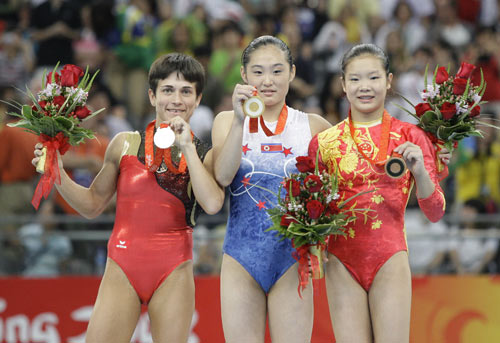 Cheng
Fei
didn't live up to expectations when she fell on her '
Cheng
' vault, however she was consoled with a bronze medal, ahead of Alicia
Sacramone
. In my mind, this medal belonged to Anna Pavlova
Nastia
Liukin
, He
Kexin
and Beth
Tweddle
all qualified to the bars final in Beijing, despite all falling in prelims. Personally, I think Yang
Yilin
deserved gold, having qualified without a fall.
Let's hope the next code is an improvement!